Hello again from the Monico Movies crew, we're still here and still watching and enjoying movies. Alas the ongoing pandemic is still resulting in restrictions on gatherings. As soon as we are able to return to showing movies to our lovely loyal and supportive audience you can be assured we'll be back in a flash. In the meantime…
With the recent arrival of the hot sunny days and major sporting events such as Wimbledon and Euro 2020 ( c'mon Wales!) the Monico Movies crew have selected a few sporting movies for you to enjoy when the sunshine takes a day off.
Borg v McEnroe (2017) cert 15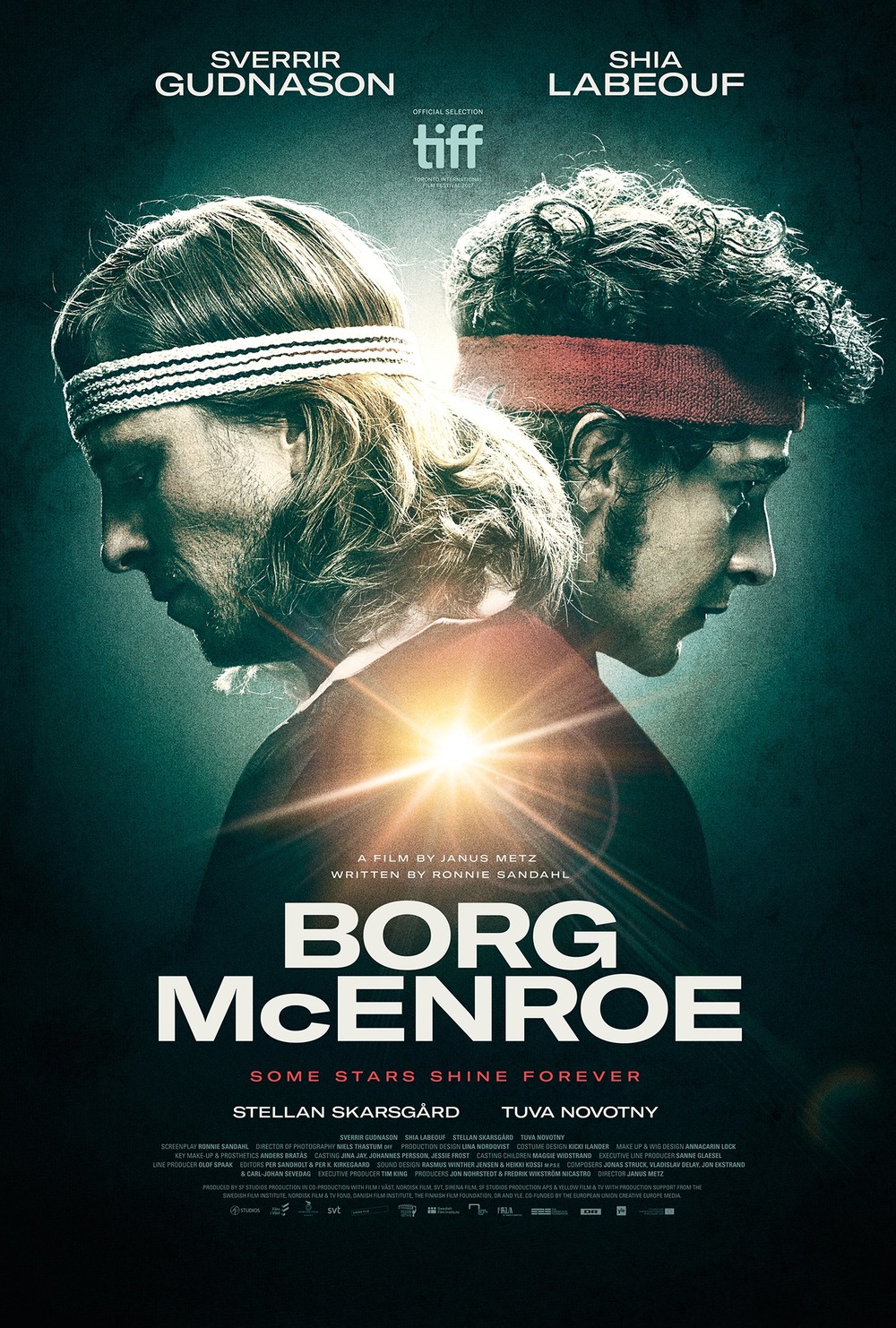 This sports drama film is based on the true story of two tennis legends, sometimes described as "fire and ice"; it builds on the professional rivalry between Borg and McEnroe and culminates in the championship game between them in l980 one of the most dramatic tennis finals of all time. In 1980, when Bjorn Borg had already won the Wimbledon tennis championship four times, he faced John McEnroe who had reached the final for the first time in his career and who would prove to be a serious threat to Borg's hopes of being the world's first to win the championship five times.
The film was directed by Janus Metz Pedersen, and starred Sverrir Gudnason as Borg and Shia LaBeouf as McEnroe. When LaBeouf first read the script, it was said he cried, as he related strongly with McEnroe's character, regarding him as a misunderstood person.  Through a combination of dramatic camerawork and compelling music score, the film builds to the big final in 1980 whilst illuminating the different characters of the two players – the calm control of Borg against the arrogance and court tantrums of John McEnroe.
Available to rent from YouTube, Google Play, Amazon Prime and you can rent the DVD from Cinema Paradiso.co.uk

The Damned United (2009) cert.15

The Damned United is a 2009 British film, adapted from David Peace's bestselling 2006 novel The Damned Utd, a largely fictional book based on the author's interpretation of Brian Clough's ill-fated tenure as football manager of Leeds United in 1974.
Born in Newport and a graduate of Neath Port Talbot Further Education College, Michael Sheen, plays Brian Clough.
Like his predecessors, Richard Burton and Anthony Hopkins, Michael Sheen is another actor to spring from the rich artistic soil of South Wales.
The Damned United is the story of Brian Clough's 44-day stint as manager of Leeds United FC in 1974. When Don Revie quit Leeds to become the England boss, the outspoken Brian Clough took charge. Determined to impose his own style upon Revie's tough-tackling team, Clough soon alienated his players and the board.
Like many sport's films, this movie is successful because of the charismatic characters involved in the plot.
You can view this film now on the BBC iPlayer.
Available to rent from YouTube and you can rent the DVD from Cinema Paradiso.co.uk


Rush (2013 film) cert. 15
Directed by Ron Howard, Rushis a finely crafted sports drama with exhilarating race sequences and strong performances from Chris Hemsworth and Daniel Brühl.
Set against the glamorous golden age of Formula 1 racing in the 1970s, the film is based on the true story of a great sporting rivalry between handsome English playboy James Hunt (Hemsworth), and his methodical, brilliant opponent, Austrian driver Niki Lauda (Bruhl). The story follows their distinctly different personal styles on and off the track, their loves and the astonishing 1976 season in which both drivers were willing to risk everything to become world champion in a sport with no margin for error: if you make a mistake, you die.


Available to rent from YouTube, Google Play, Amazon Prime and you can rent the DVD from Cinema Paradiso.co.uk